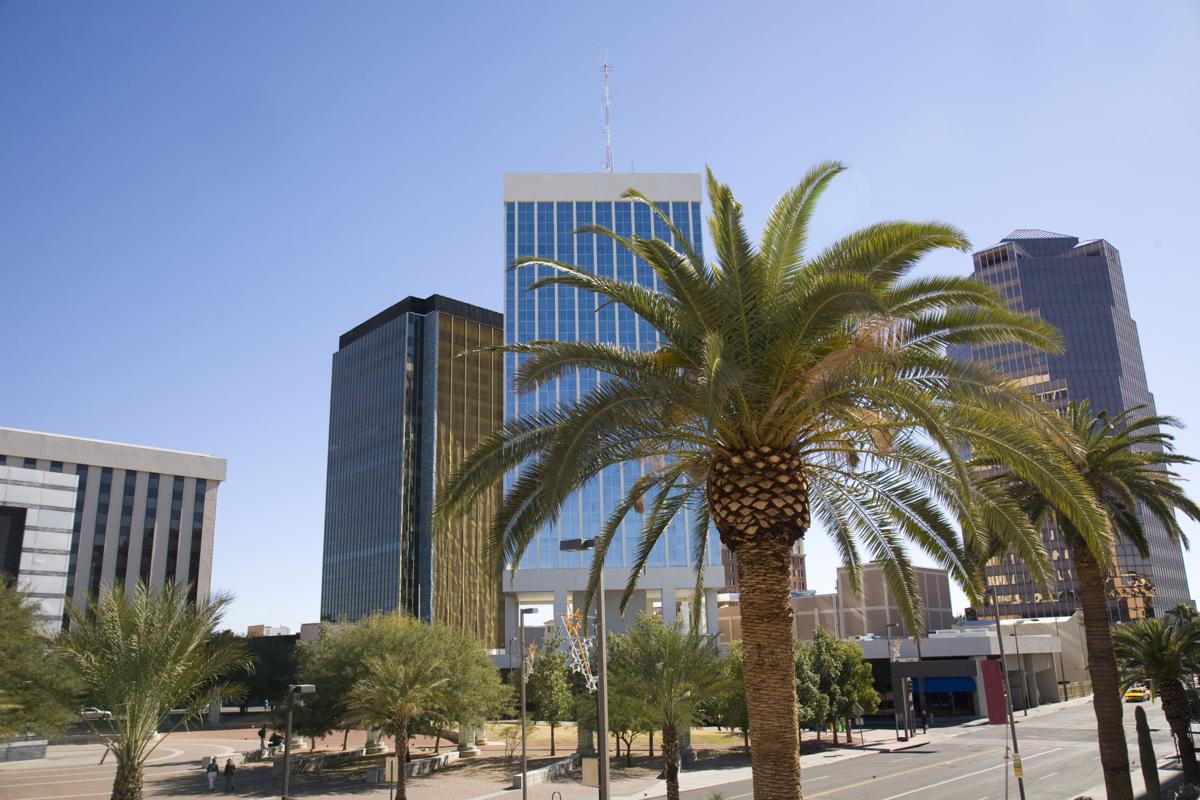 As the commercial real estate market improves across the nation, Tucson is following suit.
In a mid-year update, Tucson Realty & Trust Co. CEO Hank Amos said the forecast for the rest of the year is sunny.
Amos called the past 10 years a "lost decade" with the real estate industry as a whole experiencing "no vitality, no velocity." Within the past few years, the residential real estate market started to pick up, but the commercial market continued to lag.
Amos blamed the rough years on a lack of jobs and businesses coming to Tucson, but added that the situation is changing. Last year, Tucson saw 5,300 new jobs and this year, the projection has grown to 7,100, with rumors of even more on the horizon in 2018.
"With jobs and growth, that fuels the commercial real estate market," Amos said. "We predicted at the beginning of the year, this was going to be the best year for commercial real estate in the past 10 years, and at the midpoint of the year we're happy to say that's true and it has been very improved."
Amos attributes the improvement to a pair of factors. The first is a national bump that he calls the "Trump Effect," which is the unprecedented improvement in the stock market following President Donald Trump's election. 
"That is because investors, Wall Street, business owners and CEOs all feel they can make money again," Amos said. "That feeling has translated or transcended into Tucson."
The growth in the local economy has boosted confidence and fueled the office and industrial markets, which in turn aids in retail and even residential real estate. 
Amos credited the local economic growth to Gov. Doug Ducey's commitment to Tucson and Southern Arizona. He noted that Ducey has been to Tucson more in the first half of his term than the last two governors combined and has shown a willingness to lobby on behalf of the region. He said Ducey helped Tucson land new businesses such at Caterpillar, Inc.
"This guy is committed to Tucson," Amos said.
Amos also had high praise for the Rio Nuevo Board and its chairman, Fletcher McCusker.
Amos said local officials, especially the Tucson City Council and Pima County Board of Supervisors, have gone from having a "no growth policy" to a more pro-business philosophy.
"The no growth policy is a community killer," Amos said, noting that the policy shift occurred about a year and a half ago. He added that not every member of the board or council were on board, but that enough has changed to help Tucson's perception nationally.
Although Tucson is rebounding, it is not quite up to national standards. Unemployment is still at 6.1 percent, almost a full percent higher than the national average. The local sales tax is higher than the national average by more than 2 percent, while median family income is nearly $19,000 behind the rest of the nation.
From an investment standpoint, multi-family housing is still a hot trend citywide, and the downtown area is the hot place to invest.
Office space is a category that is also fairing very well. Office/medical leasing specialist Douglas Richardson said "it's a pretty picture for office finally and getting more glamorous all the time." 
The picture is not quite as rosy for industrial properties, as there were no major announcements for the industrial sector in the first half of the year, but rumors of new businesses has many optimistic, according to industrial specialist Chuck Blacher.
"With new construction slated to meet rising demand, many industrial properties should see increased leasing and sales activity as the trades that feed home construction come back to Tucson and the existing tenants expand," Blacher said.
The retail market is also riding a wave of momentum. The trend within Tucson is to buy existing properties and either refurbish, or demolish and build anew. Retail division head Pat Darcy said developers know what they are going to get in these areas. 
"Urban infill is still where most of the action is," Darcy said. "New retail developments are being built where old, obsolete retail properties used to be."
Outside of city limits, Darcy expects retail construction to follow home building. Right now Marana and Corona de Tucson lead the way, but Vail, Sahuarita and Oro Valley also remain strong.
Darcy said to expect more nontraditional shopping center tenants like health clubs, charter schools, pawn shops, thrift stores, self storage and medical and dental facilities to replace traditional retail stores.
As a whole, things are moving in the right direction, especially with rumors of more jobs coming to the area, but the news could still get better.
"We are probably in the first inning of a nine inning game here in Tucson," Amos said. "We may not be as robust as other areas of the country, but we are definitely heading in the right direction and things are going good."