According to CoreLogic, cash sales in the U.S. accounted for 31.1 percent of total home sales in August 2016, down 1.5-percentage points year over year from August 2015.
Fast FAQS
The cash sales share fell 1.5 percentage points from August 2015
Of total sales in August 2016, distressed sales accounted for 7.3 percent and real estate-owned (REO) sales accounted for 4.6 percent
The REO sales share in August was the lowest for any month since August 2007
The cash sales share peaked in January 2011 when cash transactions accounted for 46.6 percent of total home sales nationally. Prior to the housing crisis, the cash sales share of total home sales averaged approximately 25 percent. If the cash sales share continues to fall at the same rate it did in August 2016, the share should hit 25 percent by mid-2019.
REO sales had the largest cash sales share in August 2016 at 58.6 percent. Resales had the next highest cash sales share at 31 percent, followed by short sales at 29.1 percent and newly constructed homes at 15.6 percent. While the percentage of REO sales within the all-cash category remained high, REO transactions have declined since peaking in January 2011.
The distressed sales share of 7.3 percent in August 2016 was the lowest distressed sales share for any month since September 2007. At its peak in January 2009, distressed sales totaled 32.4 percent of all sales with REO sales representing 27.9 percent of that share. The pre-crisis share of distressed sales was traditionally about 2 percent. If the current year-over-year decrease in the distressed sales share continues, it will reach that "normal" 2-percent mark in mid-2018.
All but eight states recorded lower distressed sales shares in August 2016 compared with a year earlier. Maryland had the largest share of distressed sales of any state at 19.1 percent in August 2016, followed by Connecticut (18.5 percent), Michigan (17.7 percent), New Jersey (15.9 percent) and Illinois (15.3 percent). North Dakota had the smallest distressed sales share at 2.6 percent. While some states stand out as having high distressed sales shares, only North Dakota and the District of Columbia are close to their pre-crisis levels (each within one percentage point).
Alabama had the largest cash sales share of any state at 44.9 percent, followed by New York (42 percent), Florida (40.9 percent), Indiana (38.6 percent) and Kansas (38 percent).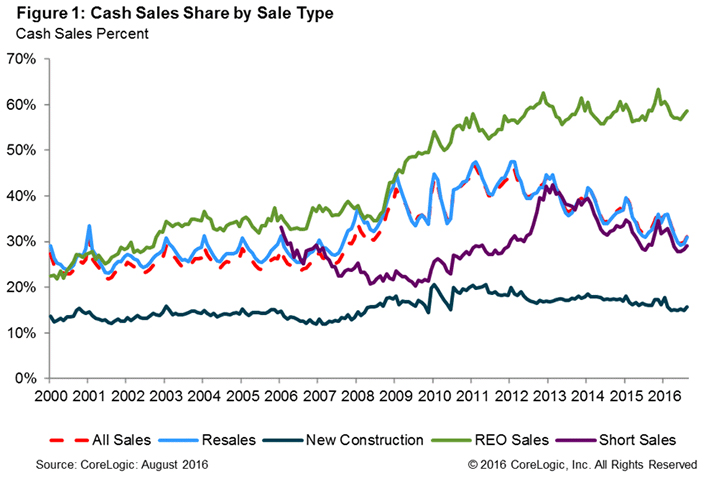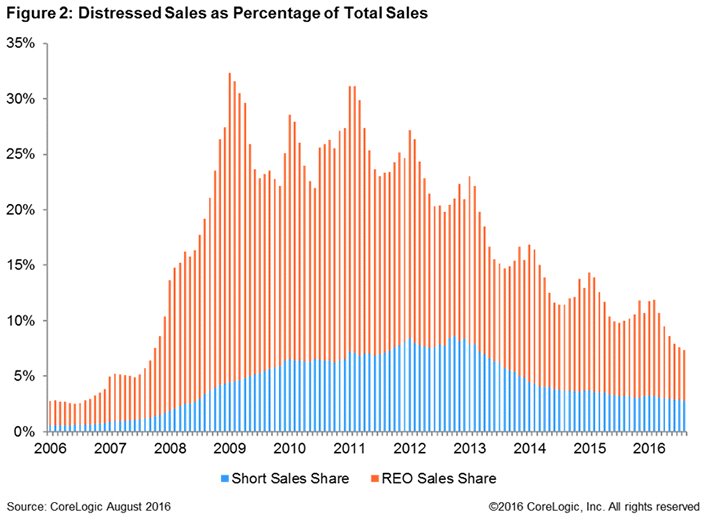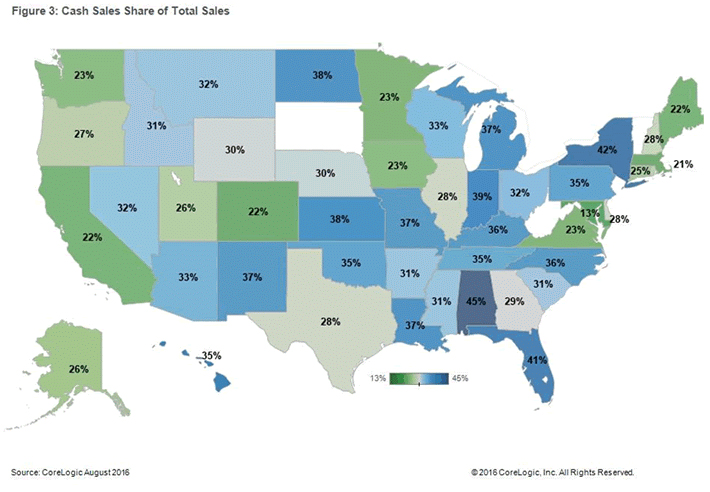 Cash Transactions Account for 31 Percent of All U.S. Home Sales in August